Creating new value fromAomori's culinary past.
Ryohei Ikemi uses live giant octopus weighing a minimum of 12 kilograms in his signature octopus terrine, a meticulous preparation involving multiple techniques that underscore the contrast of textures.
The windswept Tanesashi Coast, on the eastern edge of Hachinohe city in Aomori Prefecture, is a 12-kilometer stretch of variegated terrain that looks out onto the Pacific Ocean. Orange sukashiyuri lilies and purple morning glories sprout from the rocks along the Nakasuka shore, and white sand covers the adjacent beach. On sunny mornings, the dew-kissed meadow of natural grass that extends to the water's edge sparkles emerald green against the blue expanse of sea and sky.


The air is crisp and cool, even at the sultry height of the Japanese summer. Tanesashi's picturesque beauty has inspired many artists and poets, but fishing has always been the lifeblood of this part of Aomori. In ancient times, the town of Hachinohe flourished as a commercial port for the fishing grounds off southeastern Hokkaido. That legacy lives on in the local cuisine, which celebrates the bounty of the sea in simple preparations that highlight the quality of the natural ingredients.


We arrive in Tanesashi at dusk, just in time for dinner at Minshuku Ishibashi, a modest inn across from Tanesashi-Kaigan train station run by affable nonagenarian Chisa Ishibashi, her daughter Eiko, and granddaughter Keiko. The rooms are clean and comfortable, with tatami-mat floors and lovely ocean views.
But the main draw – in addition to the warm welcome offered by the Ishibashi ladies – is the food, which is thoughtfully prepared and served at communal tables in the dining room.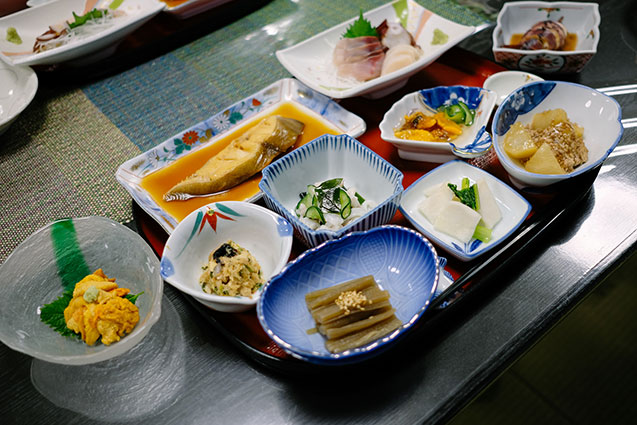 Dinner is a generous spread brimming with pristine seafood. There is cod simmered in sweetened soy sauce, sliced squid tossed with cucumbers in sesame oil, and flaked monkfish mixed with wooden ear mushrooms and scallions. A golf ball-sized blob of bafun uni (sea urchin), which comes topped with wasabi, is sweet and creamy, while hoya – a reddish-orange mollusk that goes by the name "sea pineapple" in English – tastes of the sea from which it had just been scooped. At its best, hoya has a bracing, briny flavor that some find addictive; at its worst, it tastes like a mouthful of ammonia.

"For uni and hoya, freshness is critical," Chisa Ishibashi observes. "Even one day makes a difference."


At 5am, the morning market outside of Mutsuminato station in central Hachinohe buzzes with activity. Little old ladies carrying woven baskets on their backs browse the stalls, where the isaba no kattcha (local women who sell fish) have been plying their wares since the market first opened at the end of World War II. We buy sweet raw scallops and fatty engawa (the connective tissue under flounder fins) to eat for breakfast with rice, pickles, and miso soup at tables set up inside the market. As we pay, the vendor passes us a plate of mentaiko (fish roe spiced with red chile).
"A little present for you," she says with a wink.


The port of Hachinohe boasts the largest haul of squid and fatty mackerel in Japan and supplies the country with a staggering array of seafood -- ranging from tuna, giant octopus, and shark; to sea urchin, scallops, and snow crabs. Over the years, however, a greater portion of the annual catch is shipped to restaurants and markets in Tokyo, while regional consumption has fallen. Cheaper imports from abroad have further exacerbated the problem.

In Hachinohe city, young chefs like Ryohei Ikemi, of Italian restaurant Casa del Cibo, are doing their part to encourage the community to support the area's marine industry.

"From the beginning, I decided to use only fish and produce from Hachinohe," Ikemi says, noting that, without the help of local purveyors, his restaurant might have never gotten off the ground.


As he was preparing to open Casa del Cibo in 2011, the Great East Japan Earthquake struck Tohoku, sweeping away fishing vessels, disrupting distribution systems, and wreaking havoc on restaurants. Despite tremendous obstacles, Hachiohe's fishermen rallied to deliver their promised shipments of seafood, and Ikemi remains grateful.

Initiatives such as the Hachinohe Hama Relation Project, founded by a group of volunteers six years ago, also seek to stimulate economic growth by connecting industries and consumers through the region's famous seafood. Every year, the group organizes a popular boullabaisse festival, featuring 17 local restaurants. Each restaurant creates an original take on the classic French dish using at least four of the 600 varieties of fish that come through Hachinohe port.



Second to fishing, agriculture is a mainstay in southeastern Aomori. The fertile river plains in the hilly town of Nanbu, 20 minutes from Hachinohe, are known for cherries, apples, and garlic, but in recent years, young farmers have revived an heirloom vegetable called the Nanbu futo negi, a fat-stemmed variety of leek. Centuries ago, the onion's bright green tops served as makeshift signs pointing the way from neighboring villages to Nanbu – the only area where the fickle plant was able to thrive. Though remarkably sweet, with 1.5 times the sugar content of regular onions, the Nanbu futo negi is difficult to grow, and commercial cultivation ceased around 100 years ago. In 2012, Kotaro Kimura, Shunkichi Numahata, and Hiroki Neichi embarked on a project with the students of Nagai Agricultural High School to bring back the traditional vegetable.

Neichi and Numahata also head the NPO Aomori Nanbu no Tasshamura, which works with around 30 producers to promote agritourism in the region. One objective is cultural exchange: the group has hosted farmers from Europe and traveled to visit producers in countries such as Indonesia.

"We offer farm stays where people can participate in growing or harvesting all year round," Neichi says. "There are also cultural experiences like flower arranging, pottery making, and soba making."

Neichi, who is in his 30s, traded a career in journalism for a life in agriculture after the Great East Japan Earthquake in 2011. He saw it as a way to "revitalize the area" and reconnect with his heritage: "Farming is a part of our roots."

Despite the devastating effects of the earthquake and tsunami disaster, the event has brought the intersection of food production and community into sharp focus. Increasingly, the new generation of chefs and purveyors are seeing the value in working together to strengthen the region as a whole.


Chef Takumi Neichi, farmer Hiroki Neichi's younger brother, showcases locally grown fruits and vegetables at his French restaurant, Kitchen Yui, in central Hachinohe. Rather than making a fixed menu in advance, Neichi creates dishes based on the ingredients that are available on the day.

"It's more difficult, but it challenges me to be more creative," he says.
When we visit Kitchen Yui,Kotaro Kimura, a farmer and friend of Neichi's drops by unexpectedly, bearing a large crate of strawberries – the last of the season. The ruby-red berries have a perfumed, candy-like sweetness.

"I might use these in a sorbet or a sauce," Neichi muses, popping a strawberry into his mouth.


At the charming and quirky restaurant Café Pikotiry, self-taught chef Sam Hada uses local produce to make some of the most delicious Indian food we've tasted in Japan. For Hada – who got his start as a chef cooking curries for charity events after the 2011 earthquake – his commitment to local ingredients is a source of civic pride. Nearly everything – from the spinach and atsuage (deep-fried tofu) that goes into his sag tofu, to the cauliflower and potatoes that comprise his aloo gobi – comes from around Hachinohe. The star ingredients are the incredibly sweet organic carrots and onions from Nanpu Farm, south of the city center in the Nango area.


Nanpu Farm is run by husband-and-wife team Hiroshi and Mika Mizuno. Hiroshi Mizuno was training to be a tour guide in Australia when a farm-stay experience changed his life. Impressed by the continent's natural beauty, the vastness of the land, and the hospitality of his hosts, Mizuno decided to become a farmer.

Although he had run a successful organic vegetable business in Ibaraki Prefecture, when the chance arose to relocate to a wider space in Hachinohe, he jumped at the opportunity.
"There were many challenges, but the local farmers accepted me and gave us a lot of support," he says, admiring at the undulating landscape behind his carrot fields. "This is a special place."
Aomori is famous for sake, owing in part to its abundance of pure spring water. Established in 1775, Hachinohe Shuzo is a family-run business, with managing director Hideyuki Komai working alongside his younger brother, Nobuyuki, who is in charge of brewing. The brewery uses locally grown organic rice and yeast from Aomori Prefecture in its signature brands, Mutsu Otokoyama – a classic, dry brew– and Mutsuhassen – a modern line of sake with delicate aromas and textures.
"We originally designed Mutsuhassen to pair with the cuisine of our region, which is known for its delicious seafood," says Hideyuki Komai. "But we make a wide range of products that can be enjoyed with different kinds of food."
Visitors can arrange tours of the historic brick warehouse and wooden main buildings, along with a tasting session. The buildings are sometimes used for concerts and other events, and the brewery opens the grounds to the public for special festivals.
Column2:Kaimori Yamayuri Kai
In a former school building with a forward-sloping roof, the cooking club Kaimori Yamayuri Kai meets every day at 4am to prepare hundreds of bento lunchboxes, which are sold around Hachinohe city.
Yoshiko Wada stirs steaming 10-liter pots of miso soup and shimi-dofu (naturally freeze-dried tofu) and a hearty stew made with cod and kanboshi-daikon (naturally freeze-dried daikon radish).
Data
◎ Minshuku Ishibashi ( a modern Inn) at Tanesashi Coast
14-22 Tanakubo Same-machi Hachinohe-shi,Aomori
☎ +81-178-38-2221
http://www.heronet.ne.jp/~ishibashi/index.html
◎ Mutsu-minato Morning Market
In front of Mutsu-minato Station Hachinohe-shi, Aomori
Open daily (except Sundays) 3:00 to 12:00
https://hachinohe-kanko.com/10stories/asaichi/mutsuminato-ekimae-asaichi
◎ Italian restaurant Casa del Cibo
1-19-6 Minatotakadai Hachinohe-shi,Aomori
☎ +81-178-20-9646
http://www.casa-del-cibo.com/

◎ French restaurant Kitchen Yui
25 Ban-chou Hachinohe-shi,Aomori
☎ +81-178-44-3035
https://tabelog.com/aomori/A0203/A020301/2006540/

◎ Nanpu Farm
2-1 Katahirayama Omori-aza Nango, Hachinohe-shi, Aomori
http://nanpufarm.com

◎ Hachinohe Shuzou
9 Minato-machi aza Honmachi, Hachinohe-shi, Aomori
☎ +81-178−33−1171
http://www.mutsu8000.com/

This coverage tour has been implemented under FY2017 "New Tohoku" Interaction Model Project led by Japan's Reconstruction Agency.


If you are interested in traveling to Tohoku, learn more about our travel plans designed to facilitate the discovery of food culture in farming and fishing villages!!
https://r-tsushin.com/en/journal/japan/food_tourism_tohoku.html