Japan[Kanagawa]Beyond ordinary itinerariesvol.11 Part2 Odawara Area in Kanagawa Prefecture
Listen to the Lingering Sounds of HistoryTourist Attractions More Than 15 Minutes on Foot from Odawara Castle 〈Part2〉
Mr. Shuzo Tagawa of Odawara Hayakawa Gyoson
Odawara Fishing Port
Gifts from the Ocean
There used to be three fishing ports near the Kamaboko Street during the Meiji period (1868-1912) when the fishery in Odawara saw one of its golden ages. These have since been consolidated and moved to the current place in 1968.

The auctioning of fish starts at five thirty in the morning at Odawara Fishing Port. Watching the fish auctions is an amazing experience, but it is not easy to understand what is going on. They move so fast and it is not imaginable where the prices will go. Here we will provide some context, so you can imagine how the auctions progress. The people with yellow hats are buyers, those with red hats are their assistants, the green hats indicate apprentices and the dark blue hats are for the people of the port, the sellers. Hairtail, bigeyes, black sea breams, butterfish, comet fish, amberjack, frigate tunas, red barracudas… Almost all the fish caught near the ocean are caught with fixed nets. Various kinds of fish can be caught depending on the season.
Clang-clang! The fish auctions start with the sound of the bell. Men wearing yellow, red and green hats gather in one place all at once to take part in the auction. The method of communication during the auction differs port to port, but here in Odawara Fishing Port they communicate with hand gestures and voice (cf: we use the word "voice" because the words uttered are not what we use in normal conversations.) The fish successfully bought at the auction are carried away quickly to be prepared for transportation.
At a site called Odawara Hayakgawa Gyoson (literally meaning fishermen's village in Odawara Hayakawa) where several seafood restaurants gather, we ate freshly "bought" fish in auctions in various ways; Sashimi of comet fish, hairtail, butterfish and barracuda. Black barracuda over 80 centimeters long was cooked in soy sauce. As frigate tuna can go bad quickly, you can only eat them at fishing ports. Its meat is minced and put on rice upon which dashi broth is poured. This is a local dish called Mago chazuke. Fried barracuda also has an unforgettable taste with a crispy outside and a fluffy inside.

A gorgeous breakfast like this will make for the best day of your life.
Inside a two-floored building very close to the port which will remind you of Hayao Miyazaki's film, "Spirited Away", there are three seafood restaurants and a souvenir shop.

Odawara Uoichiba Company
http://www.odawara-uoichiba.co.jp/
1-10-1, Hayakawa, Odawara-shi, Kanagawa Prefecture
☎ 0465-22-8131 (Fresh Fish Div.)

Odawara Hayakawa Gyoson
https://gyoson.com/
1-9 Hayakawa, Odawara, Kanagawa Prefecture
Gyoson no Hamayaki Aburiya ☎ 0465-24-7804
Umaimono Yatai ☎ 0465-24-7805
Kaisendonya Kaishu ☎ 0465-24-7802
Miyagedokoro Kaneyoshi ☎ 0465-24-7806

Opening Hours: 10:00 a.m. to 10:00 p.m. (differs shop to shop)
Closing Day: Open all year around
20 minutes on foot / 10 minutes by car from Odawara Castle
* The fish auction watching and the special breakfast in Odawara Hayakawa Gyoson in the early morning require a reservation at least one week in advance.
(Odawara-shi Tourist Association ☎ 0465-22-5002 (only in Japanese))
Suzuhiro Kamaboko Village
Delights in a Historic Taste with a Modern Twist
Close to Kazamatsuri Station, two stops away from Odawara Station by Hakone Tozan Tetsudo Line, there is an interesting site which offers a new way to familiarize yourself with kamaboko (a kind of fish cake), the Odawara's historical food culture. Here, you can experience the kamaboko making and chikuwa making. You will be astonished by beautifully decorated kamaboko and its show case that is like an art museum. As well as the museum-like shop, there is also a real museum where you can learn about kamaboko and a kamaboko bar where you can taste the difference between various types of kamaboko with a glass of local beer or sake.
Grasp a knife specialized in kamaboko making in your right hand and knead the surimi (mashed fish meat) paste with it. Put the kneaded surimi using the knife on a wooden board in your left hand. The experience of kamaboko making is led by a skilled staff member who demonstrates the entire process. It seems quite easy at first glance but in reality you need to skill.
There is also a chikuwa making lecture. Chikuwa is a tube-shaped kamaboko-related food. It seems easy, too, but you will soon discover that there is more to the task than what meets the eye! Your chikuwa is roasted after the making experience and you can taste it fresh from the oven.

Suzuhiro Kamaboko Village
https://www.kamaboko.com/sato/
245 Kazamatsuri, Odawara-shi
☎ 0465-22-3191
Opening Hours: 9:00 a.m. to 6:00 p.m. (varies depending on the site)
Closing Day: January 1st (closes also temporarily)
Close to Kazamatsuri Station of Hakone Tozan Tetsudo Line /
10 minutes by car from Odawara Station
Kashiwagi Art and Metal-Casting Institute
A Chiming Bell that Evokes the History of Odawara
Kashiwagi Art and Metal-Casting Institute is a small factory and shop, which is listed as a local museum in Odawara, located in a quiet residential area. The culture of metal-casting in Odawara has a long history. It is said to have been started by an artisan who transferred from Osaka during the reign of the second lord of the Hojo clan in the 16th century. However, the only foundry still in operation is managed by Kashiwagi whose ancestor transferred to Odawara along with the lord who was assigned to the Odawara castle during Edo period. The sound that Kashiwagi's bells create is so beautiful and clear that you would forget that these ornaments are made in furious fire. Their sound lingers longer than breath itself. The endurance and tranquility of Odawara can be heard in the gentle chiming of these bells. The shop is a showroom where you can listen to all the amazing sounds of different bells. You should hear it in person as the real beauty of the sound cannot be reproduced otherwise, even with good speakers. You would also notice that each bell has its own unique sound.
Various kinds of things are made through metal-casting but the objects that best represent Kashiwagi's foundry are musical instruments, specifically bells, such as cat bells, furin wind bells and orin which are used for religious rites of Buddhism, made of copper-tin alloy named "sahari".
Mr. Teruyuki Kashiwagi, who carries on the tradition of metal-casting of Odawara, is meticulous throughout production, blending of the metal for casting, shaping and polishing of ornaments in order to create the clear and long-lasting sound.

Kashiwagi Art and Metal-Casting Institute
http://www.k-imono.com/
3-1-22 Nakamachi, Odawara-shi, Kanagawa-ken
☎ 0465-22-4328
Opening Hours: 9:00 a.m. to 5:00 p.m.
Closing Day: the 2nd, 4th and 5th Saturday, Sunday and holiday
5 minutes by car from Odawara Station
Enoura Observatory
The Future Ruin Created in Odawara
You may expect an astronomical observatory to be equipped with a giant telescope. Enoura Observatory subverts this expectation; it is not just a museum, but a whole experience, created by the world-famous contemporary artist, Mr. Hiroshi Sugimoto. It took a decade of planning and another five years of construction. Mr. Sugimoto's photographs, sculptures and materials from his collection are displayed at the site. There is also an extensive garden, where you can feel the wonder of the nature with all your senses and observe the sky. The ever-changing natural site, the artworks, the buildings, the materials, the methods of construction, the natural space of sky and ocean, the cosmic space where the sun and stars exist and even the small stones placed… All you can see at the site is Mr. Sugimoto's work of art.
On the winter solstice, the sun's rays pass through the tunnel.
"Upon gaining self-awareness, the first thing our ancestors did was to try to identify their place within the vast universe. Mr. Sugimoto believes that if we return to our ancestors' habit of observing the sun's movement, we will find inspiration that points the way to our future." Ms. Haruko Hoyle, Managing Director of Odawara Art Foundation explains the concept of Enoura Observatory.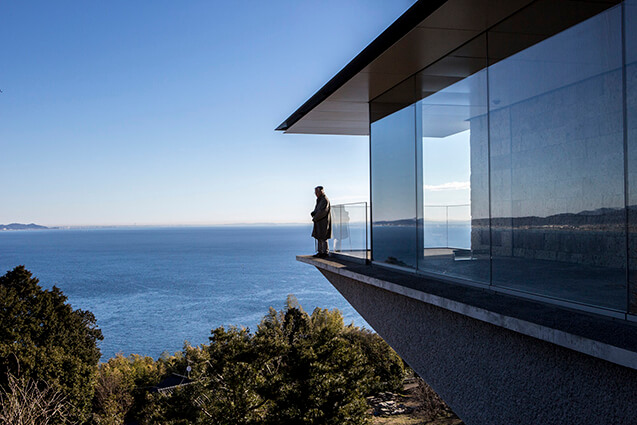 Mr. Sugimoto created Enoura Observatory as he conceptualized the beginning of human civilization and reflected on how the site would appear in the future as ruins. The word "observatory" was given to the site because this is the place where you can measure the distance between yourself and outer space. By visiting Enoura Observatory, you will realize that Odawara is not just a historical place but it is a place where you can feel the future.

Odawara Art Foundation Enoura Observatory
https://www.odawara-af.com/en/
362-1 Enoura, Odawara-shi, Kanagawa Prefecture
☎ 0465-42-9170
Closing Day: Tuesday and Wednesday (closes also irregularly)
A free shuttle bus is available at Nebukawa Station of JR Tokaido Line.
* Entry requires advanced online reservation. The same-day reservation is accepted only by telephone from 9:00 a.m.
*Two admission times a day: the morning admission (10:00 a.m. to 1:00 p.m.) and the afternoon admission (1:30 p.m. to 4:30 p.m.)