Japan[Nagano/Tokyo] Beyond ordinary itinerariesVol.7 Sumida City, Tokyo / Obuse Town, Nagano prefecture
Hokusai or Snow Monkeys?
Photography [Courtesy of Obuse Town]
Now that you have visited Sumida, the birthplace of Katsushika Hokusai, a visit to Obuse is absolutely recommended. Hokusai loved Obuse, and in return he was loved by the locals. The trip to Obuse is not difficult even though you have to change trains. First, take the Nagano Shinkansen to Nagano. The journey takes less than one and a half hours. From Nagano, the Nagano Dentetsu Express will take you to Obuse in half an hour. You may notice from the name of the station where you transfer that Obuse is located in the Nagano Prefecture, where the Winter Olympic Games were held in 1998.

There is another reason we recommend this trip: the Nagano Dentetsu Express can also take you to see snow monkeys soaking in open-air hot springs during Winter. The wild snow monkeys warm themselves by taking a bath in the springs. If you stay on the Nagano Dentetsu Express bound for Yudanaka to the final stop, you will find the famous Snow Monkey Park.

The Legacy of Obuse Left by Hokusai
Hokusai was born in Sumida and he spent most of his life there. However, he visited Obuse, a small town located in the northern part of Nagano prefecture, four times in total and left magnificent works there. You may be able to understand the reason for his gratitude by visiting Obuse yourself.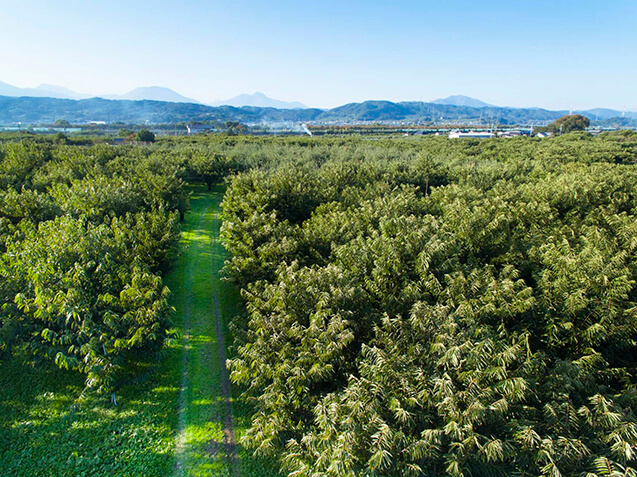 Obuse is famous for its chestnuts. In Autumn, many tourists visit Obuse seeking sweets and dishes made from freshly harvested chestnuts. But the key reason Obuse is beautiful is not its chestnuts, but the townspeople's spirit of generosity, which you will feel strongly when you stroll through the town. A citizen of Obuse tells us that, "We do not try to make ourselves appear bigger toward visitors. We just share what we have with them. This is something fundamental to our philosophy." Obuse was a prosperous town through the trade of rapeseed oil and cotton cloth during the Edo period. It was also one of the important centers of trade because of its neighboring river and roads. Many people visited the local market held six times a month. Thus, the locals have always been open-minded towards visitors. The area has also been gifted with beautiful landscapes. The locals are proud of their hometown and they are excited to share their happiness with visitors.

Obuse with a "Modified" Town Center
"Inside the house belongs to the family, but outside belongs to everybody."
Hokusai-kan (Hokusai Museum) used to be called "a museum in a paddy field" when it was built in 2015. There was absolutely nothing around. However, after Obuse moved into the limelight as "the town of Hokusai," the number of visitors to the town increased dramatically. Normally an increase in visitors is a good thing, which every town, city and country desires for, but a sudden increase is not always good news for the residents. The increase in people and traffic can hinder their daily activities. As such the town of Obuse commenced an epoch-making project called "Shukei," which literally means Townscape Modification Project. This was timed with the creation of the Takai Kozan Memorial, which involved remodeling the former house of Takai Kozan. With this project, the town center of Obuse was reinvigorated!

Many old towns in Japan aim to conserve traditional houses and townscapes, like ancient mysteries preserved in amber. In other words, the traditional area is conserved like a museum for tourists to enjoy but not for citizens to live in comfortably. Obuse's town project, on the other hand, aimed to satisfy both the townspeople and tourists. The goal of the project was premised on the concept of "ambiguity". Historic and modern buildings, daily lives and tourism should not be in conflict, but coexist. In Obuse, private houses on the national road which became heavy with traffic were moved to the quiet outer parts of town. In their stead, shops and banks that preferred busy streets were relocated there. These relocations were made by exchanging the landownership. Old houses in the area were kept but the construction of new houses was not banned. The colors of roofs and walls, styles and materials were required to be harmonious with the surrounding environment. In the town center you may notice that there no vending machines, which you usually find everywhere in towns and cities in Japan. Actually there are a few vending machines here, but they are hidden by clever designs! Moreover, the project covered private gardens, roadside flower beds, open spaces and footpaths covered with wild flowers and plants. Through this project Obuse became a beautiful and comfortable town for both residents and tourists. Interestingly, the man who was deeply involved in this initiative, Mr. Tsugio Ichimura, is a descendant of Takai Kozan, the man who invited and hosted Hokusai in the mid-19th century. The spirit of hospitality shown by Takai Kozan has been passed on to the 21th century!


Open Gardens
Passing Through Private Gardens Like Cats Do
Flowers are blooming all year around in public flowerbeds in Obuse and tending to the flowers is a voluntarily activity among the residents. What is exciting about Obuse is that you can enter the gardens of private houses to appreciate these flowers and also to take shortcuts! This initiative is called Open Gardens, which began in 2000 with 38 houses. Now more than 120 houses take part in this activity. The spirit that informs this activity is, "Inside the house belongs to the family but outside belongs to everybody." By allowing visitors to view their own gardens, the residents of Obuse can share their happiness and pride with visitors.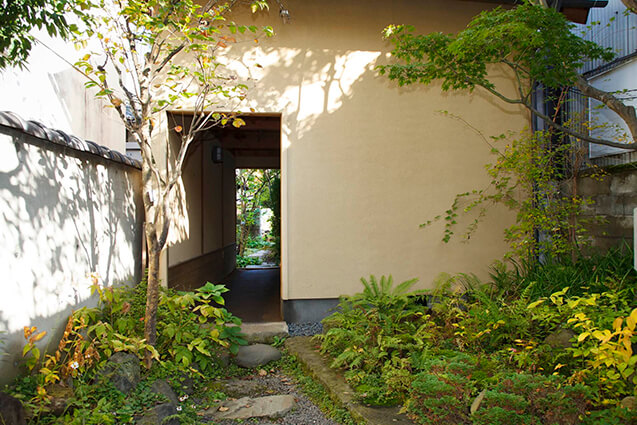 Obuse is a small town, less than 20km2. In general, "the bigger, the better." When it comes to the size of towns, however, smaller is better for town strolling! You can walk all over the town of Obuse without difficulty. But when it is hot in Summer, it is better to take a bottle of water or take a tea break sometimes in cafés, as there are no convenience stores or vending machines in the town center unlike most other cities in Japan.
Takai Kozan Kinenkan (Takai Kozan Memorial)
Takai Kozan, the North Star of Obuse
The distance between Sumida and Obuse is about 260 kilometers or 162 miles. In the Edo period, more than 150 years ago, there were no alternatives to going on foot. It is said that Hokusai, at the age of 83, took six days to reach Obuse from Sumida. Even though he was not an ordinary old man, he must have been strongly motivated to do this, otherwise he would have stayed in his cozy home. Takai Kozan gave him a cordial reception and let him use a small house in his garden as an atelier, which is called Hekiiken. Hokusai stayed in Hekiiken for over six months, and later he returned to Obuse three times. In the last stage of his life, Hokusai spent two years in total in Obuse.
"I think Kozan-san was a man who was always thoughtful of others," says Mrs. Koko Kaneda, the Chief Researcher of Takai Kozan Memorial, in Yuzenro. In this hall, many philosophers, scholars, artists and even samurai have met.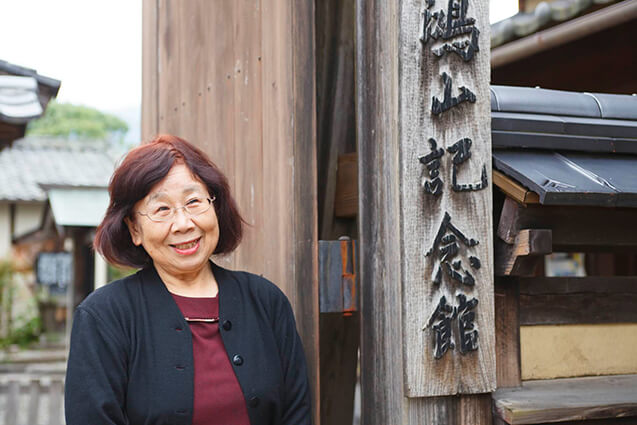 Takai Kozan used most of his assets to support artists, regardless of his own economic situation, to aid people experiencing hardship and to make Japan a better nation. He, himself, did not appear on the front stage of the history but he was always influential behind the scenes. His influence is still alive, making Obuse one of the best spots to visit in Japan.


Shinshu Obuse Hokusai Kan (Shinshu Obuse Hokusai Museum)
The Treasure that Upgraded the Town
It was not only Takai Kozan who extended a warm welcome to Hokusai, who stayed in Obuse for four years in total. The residents also shared their happy lives in beautiful Obuse with him, which can be surmised from the fact that many residents had Hokusai's works into their homes. To these residents, the artworks were sentimental hand-drawn works by a friend, and so when 'collectors' started to come to Obuse after World War II to buy Hokusai's works, some were sold for a small fraction of their real value. The town mayor then realized the loss of the town's treasures and decided to exhibit Hokusai's works for the residents. To reevaluate Hokusai's art, he started a project that established a museum of Hokusai's works. The construction was completed in 1976 and it was named Hokusai-Kan (lit. House of Hokusai).


The highlights of Hokusai-Kan are the two pairs of ceiling paintings drawn for two festival floats: Raging Waves and A Dragon and a Phoenix, which are said to have been ordered by Takai Kozan. Raging Waves will remind you of the famous woodblock print, Under the Wave off Kanagawa, but the waves are more detailed and forceful. The froth of the waves swirls toward the center, which may express the ocean's eternal quality. The edges of the pictures are plated with gold upon which flowers and birds that are unobserved in Japan are painted. They are imaginary creatures and angel-like figures with wings. If the edges were heaven, would the center of the swirling waves be the hell? These are joint works of Hokusai and Kozan; the primarily sketch was made by Hokusai and colored by Kozan.
The treasures that Hokusai left in Obuse were prodigious, and they are true gifts to the generous people of Obuse and to Takai Kozan. Hokusai's artistic mark upon the town is just as profound as the works left in Firenze by Leonardo da Vinci and Michelangelo, who were also supported by a benefactor – Lorenzo, il Magnifico, de' Medici.
◎ Shinshu Obuse Hokusai-kan (Shinshu Obuse Hokusai Museum)
http://www.hokusai-kan.com/
485 Obuse, Obuse-machi, Kamitakai-gun, Nagano Prefecture
☎ 026-247-52006
Opening Hours: 9:00 a.m. to 5:00 p.m. (Seasonal variation: 9:00 a.m. to 6:00 p.m. in July and August, 10:00 a.m. to 3:00 p.m. on New Years Day)
Entry is allowed up until 30 minutes before the museum closes.
Closing Day: December 31
Admission for Special Exhibition: 1,000yen (700yen for high school students, free of charge for children aged 15 years and under)


Gansho-in (Gansho-in Temple)
The Phoenix with an Eye Like the North Star
Gansho-in is an old temple established by the Order of the Lord of the Castle, which used to be in Mount Karita about 550 years ago. This is Takai Kozan's family temple. Kozan ordered a ceiling painting to Hokusai for his family temple, and so Hokusai painted in vivid colors a phoenix with its feathers spread out, interspersed with leaves of pine, laurel and plantain. The 6.3 meter x 5.5 meter-wide ceiling was divided into twelve panels and placed on the floor. After the painting was completed, each panel was put on the ceiling. This was in fact proven later when a mark of a palette was found on a blank space of the ceiling! Its brilliant colors were from various kinds of precious paints and 4,400 sheets of gold leaves, all of which was donated by Kozan.
This ceiling picture is named A Phoenix Staring in Eight Directions as the Phoenix is looking right at you from wherever you see it. The colors remain the same even after 170 years. Surprisingly, it has never been repainted. The Phoenix stays in this world on behalf of Hokusai. You will feel as if it were staring at you, shouting: "Live an extraordinary life!" This is said to be one of the last works by Hokusai that was completed in one year during his fourth and the last visit in Obuse after he painted Susanoo-no-Mikoto Conquering the Evils of Plague (which you saw in the Ushijima Shrine in Sumida). One year later after the accomplishment of this ceiling painting, Hokusai became the eternally shining "Polaris," observed even in the Southern Hemisphere, which leads people around the world to Sumida and Obuse.
◎ Gansho-in (Gansho-in Temple)
http://www.gansho-in.or.jp/
615 Karita, Obuse-machi, Kamitakai-gun, Nagano Prefecture
☎ 026-247-5504
Opening Hours: 9:00 a.m. to 5:00 p.m. (Seasonal variation: 9:00 a.m. to 4:30 p.m. in November, 9:30 a.m. to 4:00 p.m. from December to March).
Entry is allowed up until 30 minutes before the temple closes.
Closing day: the days when memorial service is held (Please refer to the website.)
Admission: 300 yen (100 yen for children 12 years old and under)