|

日本語(Japanese) |
Exploring the roots of the competition winners!
The Road to Become the Best in the World Began at Le Cordon Bleu
May. 6, 2016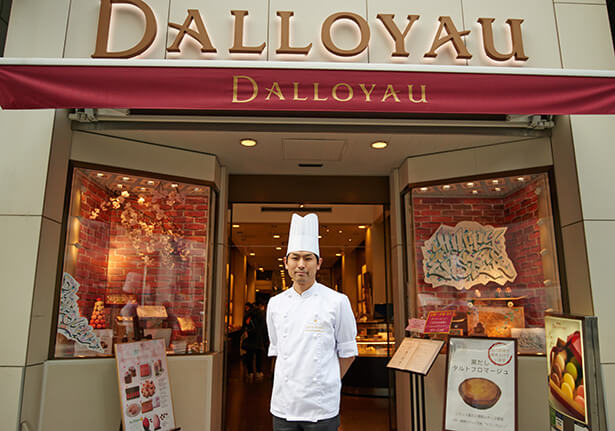 text by Rieko Seto / photograph by Sai Santo
In October of last year, the Japanese team won first place at "The World Trophy of Pastry Ice Cream Chocolate," a pastry world championship held in Milan, Italy. One of the members on this team is Kenta Nakano, who works as the Pastry Chef at Dalloyau Japon."The road to becoming a pastry chef began for Nakano at Le Cordon Bleu Tokyo. "What I learned then is still alive in me today."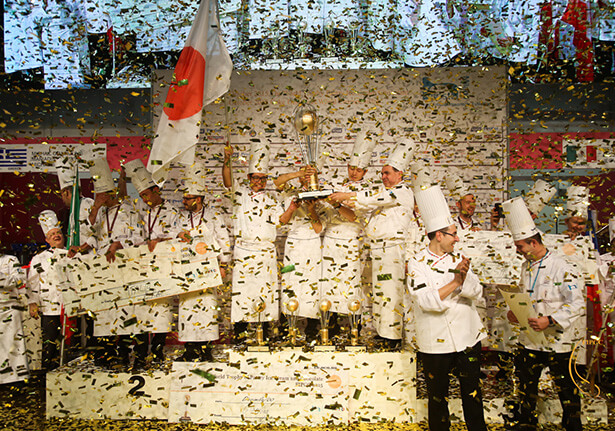 Beating 13 Counties in Over 7 Hours

The young Japanese pastry chefs have attracted attention from around the world with their high level of skill and creativity, and have given brilliant performances, including winning at several international competitions. The Japanese team stood at the top of 13 countries with a specular win at "The World Trophy of Pastry Ice Cream Chocolate," held in Milan, Italy in October 2015. Based on a theme of "The Evolution of Technology," the Japanese team expressed themselves by drawing inspiration from nature. They created the sky, earth, and ocean in three pieces made from ame (sugar art), chocolate, and pastillage. This work was highly regarded.

Competing for Japan along with Hiroyuki Emori, formerly of "Glaciel," and Reisuke Tsuda of "grains de vanille," was Kenta Nakano, who works as the Pastry Chef at Dalloyau Japon. He was responsible for amezaiku (crafting sugar art ) and entremets. Feeling the appeal of competing for Japan on the world stage, he decided to participate despite his busy schedule.

"Now, when we started, there was the first competition and almost no information, which made it far more difficult than I had imagined. Everyone brought ideas, and when we finally started to see our work take shape, it was only two months before the competition. The day of the competition there were some small accidents, but the three of us worked together for seven and a half hours. Taking the title of number one in the world made me very happy and really gave me confidence."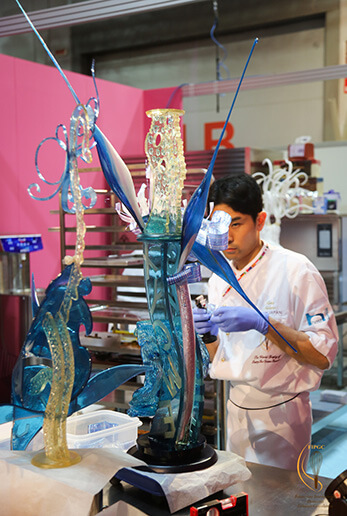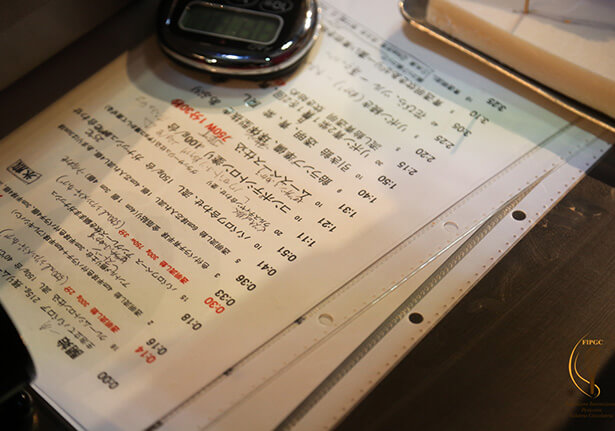 Teammate Hiroyuki Emori on Nakano:"While at Hôtel Plaza Athénée, a luxury hotel in Paris, he had won runner-up in the world-class Charles Proust Competition. He was knowledgeable, experienced, and dependable.
At the main event, he was always calm and collected, his work accurate and beautiful. There was a sense of stability. The judges at the competition said so, too. His preparations and organization before the event were excellent. I think he is the embodiment of what a pastry chef should be."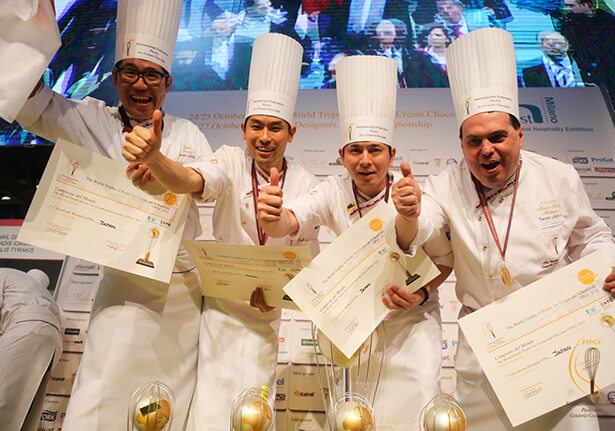 Immersed in Patisserie at Le Cordon Bleu Tokyo
What opened the door to the world of confections for Nakano was a class at Le Cordon Bleu Tokyo. Aspiring to become a chef while studying English in university, he casually took the first step and attended a confectionary course. For Nakano, who "didn't even know what tempering was," everything he heard was new to him. He was fascinated by chefs' high level of skill, by their knowledge, by the beauty of their finished pastries; Nakano was drawn to it. "I thought, 'This is cool!' This might be an interesting line of work."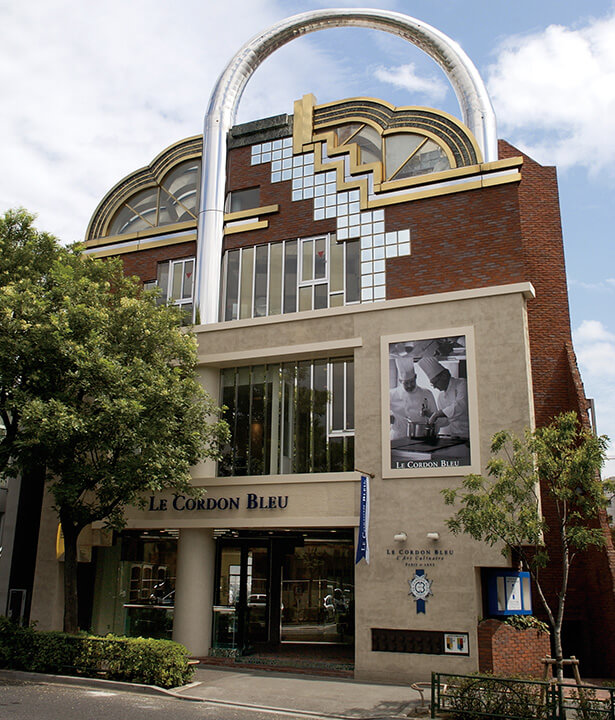 Nakano took basic and intermediate courses at the Tokyo school. In those courses, he learned a great deal about classic pastry—those that are no longer seen very often even in France."To know of classic confections within the history of French confections, and to be able to have opportunities to make them was a valuable experience. Looking at contemporary confections, in actuality there are some that use the same dough or batter as classic confections. Some are confections that have altered the balance of classic confections. Classic confections form the foundation for these."In training, each student worked alone, from beginning to end, to make their own gâteau."Because there is no division of labor, I was able to experience every step of the process, which I am glad of. Much of the work is done by hand instead of by machine—whipping meringue and pâte à bombe was done by hand, which was tough. But, this is surprisingly important. It is precisely because you have experience working by hand that you have a sense even when using machines. You understand specific timing. I often remember this when teaching others."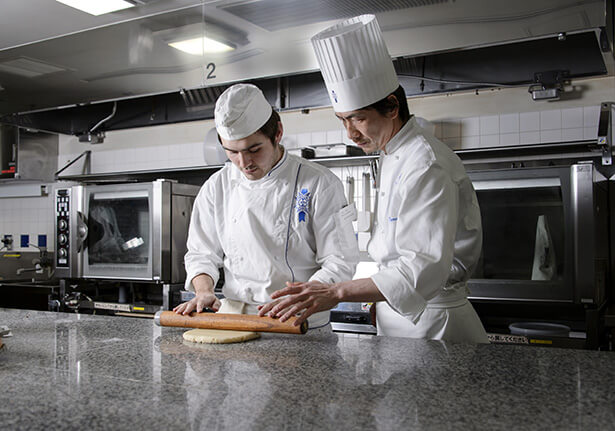 Chef-instructors That Teach with Personality and Experience
One more thing that has stayed with Nakano is the unconventional teaching methods of the highly knowledgeable chef instructors who stand opposite of the students. The French chefs and Japanese chefs each had experience working at several shops, and each had various methods for the same dough or batter and ways of thinking about these."I am glad I was taught 'there is no one correct answer.' That is true when you go to work. And there is a passion, and no matter what kind of question you ask, there is an answer. In terms of teaching ability, I think the Tokyo school must rank among the top in the world."The following year, Nakano studied superior certificate courses at the Paris school and received his diploma."My base is in the Tokyo school. Courses allowed me to experience authentic French sensibilities without any confusion. It was interesting being able to create lots of ame (sugar) and chocolate pieces."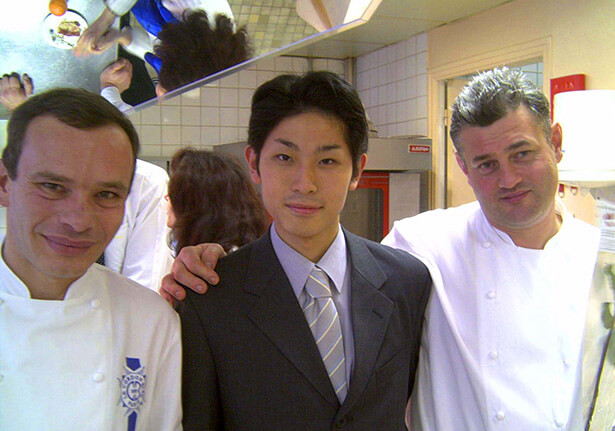 From Le Cordon Bleu to a M.O.F. Patissiere
For his training, Nakano left for his desired "La Grande Épicerie de Paris" with an introduction from the school. Receiving guidance directly from Chef Nicolas Boussin, M.O.F. pastry chef at the time, Nakano appeared in his first competition. After that, he returned to Japan and graduated from university. He then again journeyed to France after "Jouvaud." At "Hôtel Plaza Athénée," he studied under Christophe Michalak, who was bold and playful, and won runner-up at the 2008 Charles Proust Competition. He steadily built his career while absorbing the French esprit.

In 2012, Nakano received an invitation from Yann Brys, the M.O.F. pastry chef at Dalloyau, and became pastry chef of "Dalloyau Japon." "Dalloyau" is a veteran Paris-based pâtisserie with a history that goes back over 200 years. Thirty-three years have passed since opening in Japan, and it is known and loved by Japanese people. Nakano is acutely aware of its importance every day.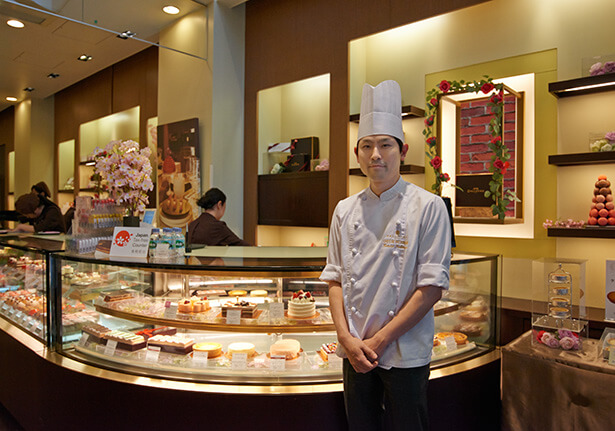 Working as the Pastry Chef at Dalloyau
The first thing that is required is direct communication with the Paris headquarters and to provide the same flavor in Japan based on those recipes as much as possible."More than anything, the Dalloyau style is important. The same ingredients cannot be used in Japan, and work must be done to match the market. But I work to change the harmony as little as possible and leave the Dalloyau esprit intact."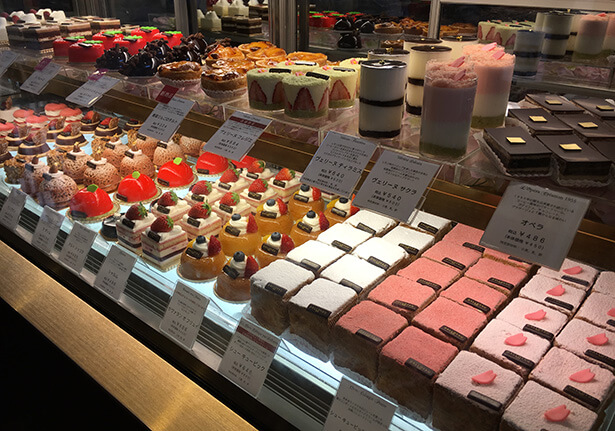 There are also unique Japanese items that Nakano worked to develop. "I also use Japanese ingredients when needed, such as sakura sweet bean paste for sakura chou. There is no strict observance to conventions."Nevertheless, these naturally come out as confections with a French sensibility because of Nakano, who places himself in the world of France confections. Japanese western confections feel as if they take shape by mixing trends from not only France, but also Germany, Austria, Italy, etc. But beginning with Le Cordon Bleu, what is steeped in Nakano, who has gained experience at French pâtisseries and hotels, is the esprit of pure French confections.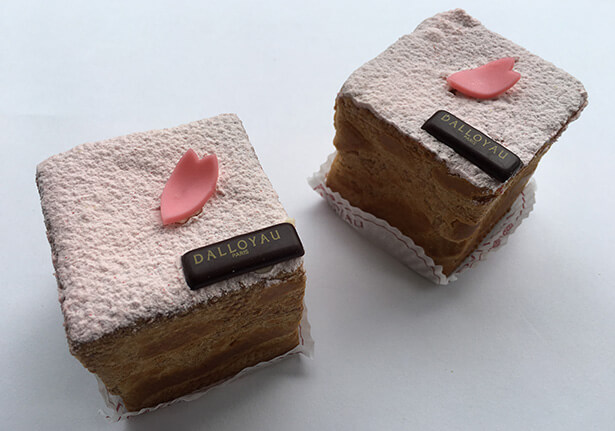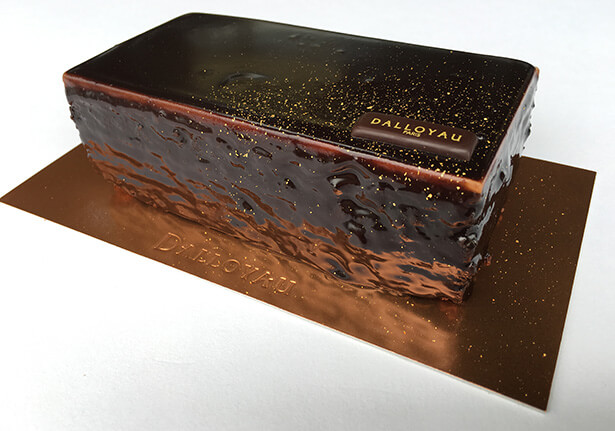 The Teachings of Le Cordon Bleu Live On
"My strength is my freedom from the influence of Japan, and I mean that in a good way. To not think "this is how it should be" is a teaching of Le Cordon Bleu alive in me."As the one responsible, sometimes there are decisions that require bravery, and it is the confidence I gained at Le Cordon Bleu that pushes me."In competitions, one's abilities are objectively evaluated in a easy-to-understand ranking system. When the results are out, they show how far one's progress and work has been recognized. It gives you confidence." At the same time, one's presentation abilities are refined with competition experience. I was also glad to have been able to express myself more meaningfully.Making use of the individuality unique to Kenta Nakano, whose journey began with his experience at Le Cordon Bleu, he is freely and flexibly delivering the joy of French confections to people.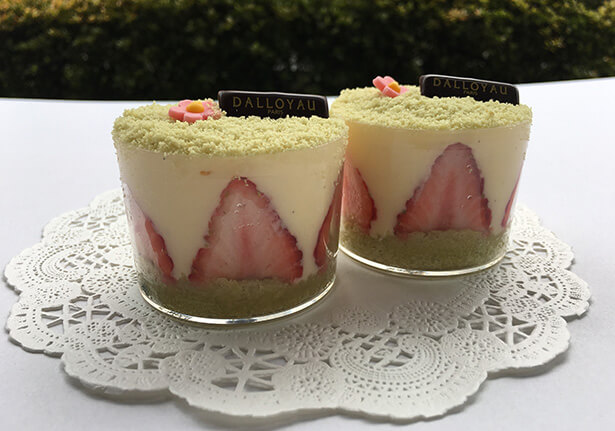 ◎Dalloyau Japon
Pastry Chef & Product Development Chief
Kenta Nakano

Born in 1980. Completed The diploma at Le Cordon Bleu Tokyo (basic, intermediate) and Paris (superior)in 1999-2001 while in university. Trained at "La Grande Épicerie de Paris" in Paris.After graduating from university, worked at "JOUVAUD" in Hiroo. Returned to France in 2007. Graduated from the Olivier Bajard International School of Pastry, and studied at "Hôtel Plaza Athénée" in Paris, "Olivier Bajard" in Perpignan, and "Chocolaterie 6C" in Opio. Returned to Japan in 2011, and after working as an assistant at Le Cordon Bleu Tokyo, was made a pastry chef at "Dalloyau Japon" in 2012. Won runner-up at the Charles Proust Competition in 2008, and won first place in "The World Trophy of Pastry Ice Cream Chocolate" in 2015 as part of the Japanese time.

*Le Cordon Bleu Japan have invited Chef Kenta Nakano to "Masterclass," a course for improving one's skills by learning from chefs active on the forefront of their fields. Tokyo school May 22 (Sun.), 14:00–17:00 June (Sat.), 10:00–13:00 3-hour training


Click here for more information
https://www.cordonbleu.edu/tokyo/masterclass-pastry-nakano/en

Tokyo school
Private enrollment counseling
https://www.cordonbleu.edu/tokyo/private-counseling-appointments/en