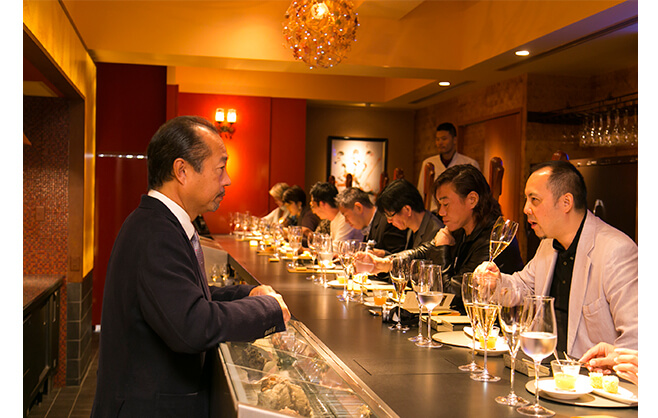 An intimate event designed to experience the allure of champagne was held at restaurant "S+"in Atago, Tokyo on a recent brilliantly sunny Sunday afternoon. The title of this special lunch planned by host and sommelier Shinya Tasaki was "LE& Gathering with Shinya Tasaki."

"LE&"included in the title, is the name of a sensory-style pop-up restaurant which was open from June 9 to July 9, 2014 in the Champagne region of France and sponsored by Moët & Chandon. Its maverick methods and avant-garde creations have now become the stuff of legend. "The Cuisine Magazine, October, 2014 issue" and this Web Cuisine Magazine feature the event and, for your reference, please read the articles.

Shinya Tasaki was one of attendees to "LE&" visiting the home ground of Moët & Chandon and planned this special lunch with a passion with the goal of sharing the fabulousness of LE& again with friends that were also lucky enough to participate in that spectacular event. For Tasaki, it would be a kind of LE& reunion, as the guest list made up those who experienced "LE&" along with Tasaki, including Hajime Yoneda of "HAJIME," Akira Watanabe of "AW Kitchen," Yuji Saito of "Orexis," Naoto Kishimoto of "L'EMBELLIR," and Kenjiro Hashida of "Hashida Sushi, Singapore."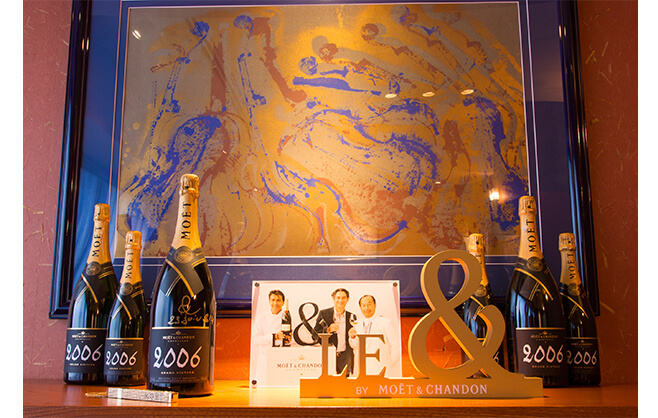 With everyone finally gathered together, they enjoyed a toast with "Moët Impérial"and savored the happy reunion with the mellow bubble of the champagne. After everyone was seated, the feast began in earnest. Four kinds of Amuse (appetizer) paired with "Moët Impérial" were served: "Macaroon of foie gras" flavored with yuzu; "Oasis of Nagara River," ayu with Bodhi Tree-flavored espuma; "Braiser of camel's hump" for which a mushroom with good earthy aroma was used; and "Tartar of marine turtle" with spice essence. "The aroma of each dish is harmonized with the essence of the scent of Moët Imperial," explained Tasaki.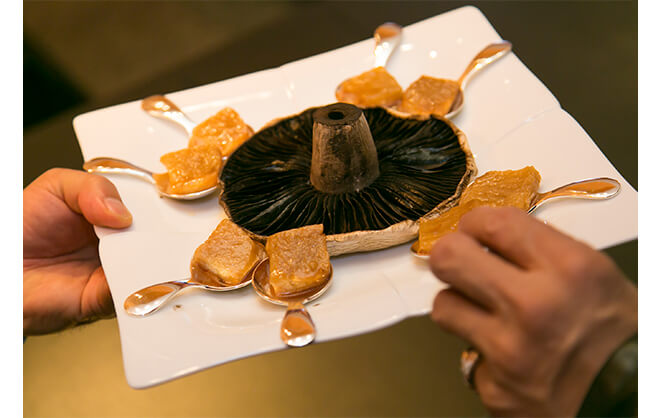 For the champagne "Grand Vintage 2006"poured next, "Crème brûlée of quail" was served. Tasaki explained: "I conceived of a dish that could meet the powerful ebb and flow of the Grand Vintage 2006," creating a harmony between the richness of double consommé and the 2006 that was almost palpable in its sensuality. The main dish, "Pot-au-feu of pedigree Agu pork," was paired with Tasaki's treasured "Grand Vintage Collection 1996." Guests were surprised by the unusual paring between champagne and richly-flavored pork, but the balance of oxidative aroma and reductive one of the Grand Vintage Collection 1996 was fused admirably with the wild taste of pork. No one at the dinner table could resist sighing in admiration between bites.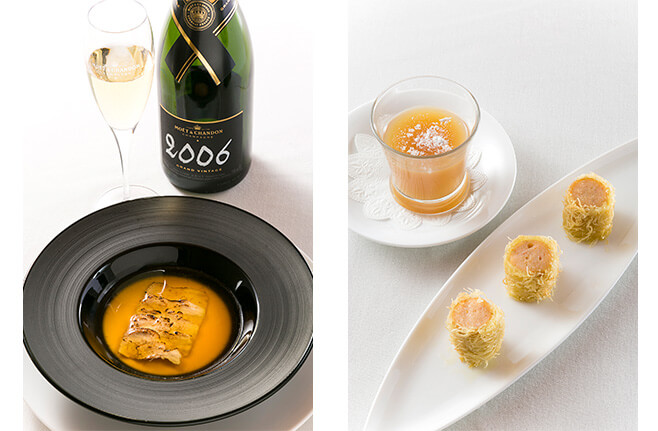 | | |
| --- | --- |
| A dish paired with "Grand Vintage 2006" was "Crème brûlée of a quail with quail consommé." The rich flavor of 2006 was perfectly harmonized with the fertile taste of Japanese steamed egg custard made with quail's eggs and the double consommé of quails. | A dish paired with "Grand Vintage Collection 1999" was "Kadaif-wrapped crabs with crab velouté," a dish to eat wild blue crabs wrapped with kadaif and then deep-fried, with velouté on. The taste included a certain oriental nuance. |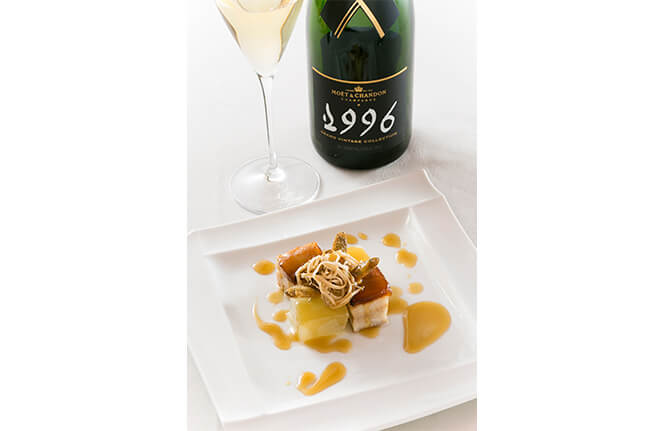 The essence of LE& is the spectacular pleasure of Moët & Chandon exploring the future of our sustainable five senses. With his knowledge and playful spirit riffing on this theme, Tasaki and LE& might succeed in leading guests to a new dimension of taste, expanding their five senses by gathering and enjoying a shared experience around a bottle of champagne. What new discoveries behind LE& await us next time?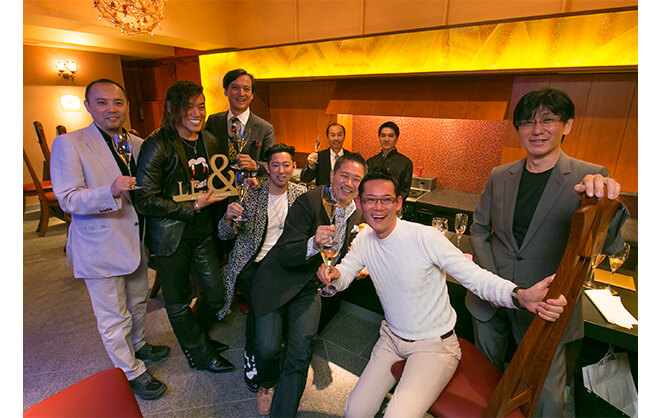 text by Takanori Nakamura / photographs by Tomohisa Ichiki /
English translation by Yuko Wada and Sean Gaston
More Info on MOËT & CHANDON:
MHD Moët Hennessy Diageo K.K.
http://moet.jp
◎S+
JK Bldg. 1F, 3-15-12 Nishi-shinbashi, Minato-ku, Tokyo
03-5733-3212
17:00~23:30
Closed on Sundays and National Holidays
GRAND VINTAGE 2006 × LE& ───────────────────────────────────

Vol.5 Activity Report (3) "LE& OREXIS COLLABORATION DINNER"(December 22, 2014)

Vol.4 Activity Report (2) 「LE& above GRILL & BAR Collaboration Dinner」(December 6, 2014)

Vol.3 Activity Report (1) 「LE& Gathering with Shinya Tasaki」(November 11, 2014)

Vol.2 Fine craftsmanship for cuisine and wine(October 6, 2014)

Vol.1 A new taste and experience pioneered by Moët & Chandon(September 29, 2014)